Magna Carta returns to Lincoln Castle after leaky roof fixed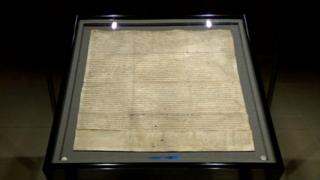 A copy of Magna Carta moved from display at Lincoln Castle because of rising humidity levels in a new multi-million pound vault has been returned.
Lincoln holds one of four remaining copies of the charter, which was signed by King John at Runnymede in 1215.
It was moved at the start of July after a small leak in the roof was found to be the cause of the humidly rise.
Along with the Charter of the Forest, the document was taken to an undisclosed location.
The new vault was built last year to house it as part of a £22m renovation of the castle.
More on this and other stories from across Lincolnshire
William Brown, county heritage manager for Lincolnshire County Council, said: "As a responsible guardian of these precious pieces of history, we have to take looking after them seriously.
"That's why we moved the documents while we worked out what the problem was and fixed it."
He said anyone who missed Magna Carta having bought all inclusive tickets for the castle's paid attractions was entitled to a free return visit within six months.
---
What is Magna Carta?
Magna Carta outlined basic rights with the principle that no one was above the law, including the king
It charted the right to a fair trial, and limits on taxation without representation
It inspired a number of other documents, including the US Constitution and the Universal Declaration of Human Rights
Only three clauses are still valid: one guaranteeing the liberties of the English Church; the clause confirming the privileges of the City of London and other towns; and one that states that no free man shall be imprisoned without the lawful judgement of his equals
The British Library has two copies of the 1215 Magna Carta
Source: The British Library
---