Weeds thwart Guy Martin's 'pedalo' record attempt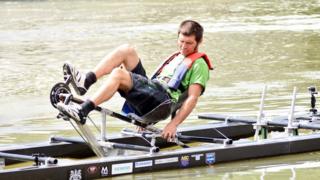 Racer Guy Martin's bid to set a new speed world record in a human-powered hydrofoil has been thwarted by weeds.
The mechanic and motorbike racer was due to attempt the record on Lincoln's Brayford Pool.
It was called off after Mr Martin held a practice session at the site on Wednesday.
The speed attempt was to be featured in a new series of his Channel 4 television show.
Hundreds of spectators turned out to watch, and despite efforts to clear the weeds the attempt was later called off.
More on this and other local stories from across Lincolnshire
At the scene, BBC reporter Alex Rhodes said one spectator joked that the ducks were going faster in the water.
Describing the hydrofoil, he likened it to a "pedalo, but without the swan wings".
A message from Guy Martin said: "Ta' for the support, I look forward to having another crack at it down the line."
Michael Armstrong, from Lincoln BIG, which helped organise the event, said he was disappointed with the news.
"We had a fantastic day yesterday - but as it happened we have had this issue, which prevented it going forward today."
He said the harbour trust had "pulled-out all the stops" in a bid to clear the weeds, but said the recent hot weather had exacerbated the problem.
He added: "We are still taking with the television company and hopefully this will happen at a later date."
---
Martin's speed records
Martin is aiming to break the record set by American Mark Drela in 1991, which stands at 18.5 knots (9.53 meters/second) over a 100 metre course on the Charles River in Boston, Massachusetts
In March, Guy Martin set a new speed record for riding a Wall of Death, reaching 78 mph (125.5 km/h), and back in 2014 he set a world record for the fastest speed on a gravity-powered snow sled, 83.49 mph (134.368 km/h)
He also holds the title for the fastest speed in a soapbox (motorless vehicle) 85.61 mph (137.78 km/h), set at Mont Venoux, France, on 16 October 2014