Twyford Wood ravers jailed over attacks on police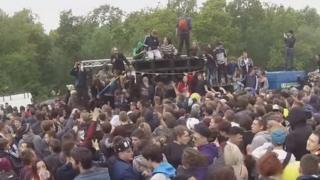 Twenty-one people have been jailed after police were assaulted at an illegal rave.
About 1,000 people attended the event close to the A1 at Twyford Wood near Bourne, Lincolnshire, on 23 May 2015.
Police carried out an operation to close down the event, which they said led to 21 officers and a police dog suffering injuries.
Lincolnshire Police said the level of violence directed at officers was "totally unacceptable".
Officers were punched and kicked and had missiles thrown at them, including bottles and scaffolding poles, and at one point ravers sprayed police with diesel fuel, Lincoln Crown Court heard.
One officer was hit by a car, while a police dog was struck by a glass bottle.
Judge Michael Heath, passing sentence on Thursday and Friday, told them: "This was large-scale public disorder. That disorder became very ugly.
"Immediate custodial sentences have to be imposed to punish each of you and to provide an element of deterrence to those who may be minded to engage in violent disorder in similar situations against police officers trying to do their job."
The defendants, who are from various locations across the UK including south Wales, Wiltshire, Norfolk, Bristol and Leeds, had previously admitted violent disorder.
A woman who drove at a police officer manning a road block, and carried on for 350 metres with him "spread-eagled" on her bonnet, was jailed for 12 months in April.
Three other defendants face trial after denying charges.
Alan Brown ,31, of Bury St Edmunds, Suffolk, denied an offence of public nuisance by providing a generator for use at the rave.
Jonathan Lawson, 25, of Norwich, denied two charges of possession of drugs with intent to supply.
Stephen Kelly, 26, of Bristol, denied possession of MDMA with intent to supply.
The trials are listed to take place in August and September.
Sentencing:
Ross Porter, 29, of Blackwater, Camberley, jailed for two and a half years
Benjamin Moore, 20, of Lowestoft, Suffolk, jailed for two years
Scott Lamond, 29, of Roath, Cardiff, jailed for two years
Adam Sheen, 30, of Newport, Gwent, jailed for two years
James Long, 22, of Ampthill, Bedfordshire, jailed for two years
Robert Cooper, 20, of Finchampstead, Berkshire, jailed for two years
Anthony Davies, 30, of Tonypandy, south Wales, jailed for two years
Oliver Rickman-Williams, 26, of Stroud, Gloucestershire, jailed for 18 months
Dale Waring, 20, of Outwell, Norfolk, jailed for 18 months
Ashleigh Davies, 34, of Tonypandy, south Wales, jailed for 18 months
Zachary King, 20, of Lakenheath, Suffolk, jailed for 18 months
Joseph Collins, 27, of Lowestoft, Suffolk, jailed for 18 months
Joshua Colman, 21, of Narborough, Norfolk, jailed for 18 months
Thomas Carling, 22, of Corsham, Wiltshire, jailed for 12 months
Richard Higgs, 21, of Headingley, Leeds, jailed for 12 months
Chris Willis, 24, of Dunstable, Bedfordshire, jailed for 12 months
Maggie-Mae Cross, 20, of Carbrooke, Norfolk, jailed for 12 months
Anthony Owens, 19, of Southmead, Bristol, jailed for 12 months
Dale Hopcroft, 23, of The Maltings, Norfolk, jailed for 12 months
Kieran Wilson, 23, of Hoveton, Norfolk, jailed for 12 months
Michael Carden, 23, of Brimscombe, Gloucestershire, jailed for four months