Seal pup with stick stuck in eye rescued in Boston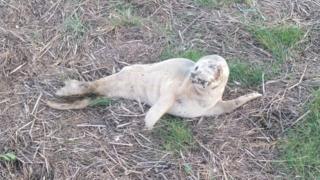 A seal pup found on salt marshes with a stick in its eye has been rescued.
The pup was found "alone and in distress" at Freiston Shore Nature Reserve in Boston by a couple walking their dog, the RSPCA said.
Animal welfare officer Kate Burris said: "He had a really awful injury to his eye in which a stick had pierced the eyeball."
He is being treated for his injuries at the RSPCA's centre in Norfolk after being found on Friday evening.
Ms Burris said: "I was very surprised to find the seal where he was - nowhere near any water.
"He was discovered on the salt marshes, at least 2km from the sea."
She said the common seal pup would be released back into the wild once he had "recovered fully from his ordeal".