Heat factor in Langworth freight train derailment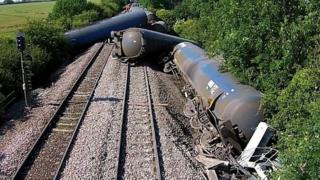 Heat was a factor in the derailment of a freight train in Lincolnshire, rail crash investigators have said.
Nine empty diesel wagons were derailed near Station Road level crossing at Langworth on 30 June 2015.
The Rail Accident Investigation Branch (RAIB) said the track had buckled as temperatures reached 28.4 Celsius.
It has made a number of recommendations including using speed restrictions in hot weather, meaning there is less pressure on rails.
The RAIB said the train was travelling at 48mph (77km/h) when the driver reported a kink in the left-hand rail ahead of the derailment. The train's brakes automatically applied, bringing it to a stop.
More on this and other stories in Lincolnshire
The service travelling from Kingsbury Oil Terminal to Humber Oil Refinery consisted of 22 empty diesel wagons.
In total nine derailed, with some leaving the track and rolling over.
There were no injuries but there was "substantial damage" to the track, points and signalling equipment.
The report also found under-resourcing of the maintenance team, leading to the continual reprioritisation of maintenance tasks, was also a possible underlying factor in the crash.