Lincoln Theatre Royal owners seek new company to run it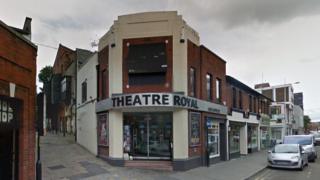 The new owners of the Lincoln Theatre Royal building are looking for a new company to run the theatre, the BBC has learned.
The theatre's operating company was unable to pay the rent, the director of APS Holdings Ltd told BBC Look North.
APS Holdings Ltd bought the theatre building at auction in April.
Recently, companies associated with the theatre failed to pay almost £500,000 to performers, investors and contractors.
The locks on the theatre building have been changed and an operating company has been set up as an emergency stop-gap in the hope events at the theatre can go ahead in July.
APS Holdings Ltd are looking for a new leaseholder to run the theatre.
Ian Marston, who ran the theatre's current operating company has voluntarily wound it up and ceased trading.
Mr Marston said this was done to avoid "any further financial distress to our current creditors" and he hoped a new tenant could be found to keep the "beautiful theatre" open.