Matt Harness delivers baby Spencer in Branston pub car park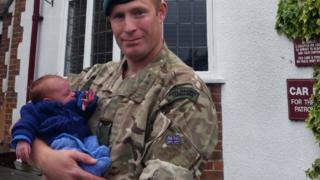 A Royal Marine has told how he delivered his baby son in a Lincolnshire pub car park.
Sgt Matt Harness, 36, said he had no choice but to deliver Spencer in the unlikely surroundings of the Waggon & Horses at Branston.
The drama began after he and his partner Kaylee had visited a labour ward when her contractions started.
The couple were told the birth was still some way off and returned home, only for Kaylee's waters to break.
Sgt Harness, who is a firefighter in Leicestershire and Royal Marines Reservist with the Nottingham detachment of RMR Merseyside, said they arranged to meet an ambulance at the pub after realising the baby was coming.
"She screamed its coming, its coming, - I had a look and there was a baby's head - so, I rolled my sleeves up, and before I knew it there was a baby in my arms," he said.
More on this and other local stories in Lincolnshire
Sgt Harness, who has completed tours of Iraq and Afghanistan, described delivering baby Spencer, who weighed 6lb 9oz, as "the most frightening experience of my life".
His partner Kaylee Harshaw, 28, said: "His birth certificate says Waggon and Horses car park, so when he is 18 he will quite like to say he was born in a pub."
She added: "He might not be quite so keen on his nickname - we called him Pickle because he was born in Branston."