Lincoln Theatre Royal fails to pay creditors £460,000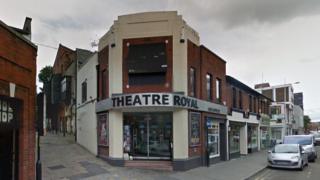 Five companies associated with Lincoln Theatre Royal failed to pay a total of more than £460,000 to performers, contractors and investors.
A printer said he was not paid more than £8,000, while one singer said he had not been paid about £2,500.
The theatre went into liquidation for the second time in three years in September 2015.
Those involved denied the claims saying they always endeavoured to make payment to all creditors as soon as possible.
The allegations relate to firms associated with the theatre's current Artistic Director Ian Dickens, his wife Nicola Dickens and Ian Marston, who runs the company currently operating the theatre.
Singer Kevin Fitzsimmons is among 11 creditors who claim they were not paid in full by the theatre or companies associated with it. His act "Sequins and Sinatra" performed at the theatre in April 2015. Mr Fitzsimmons said he was not paid £2,513, so had to pay the wages of his 16 musicians out of his own pocket.
"We emailed, we made phone calls and they said that they would get back with a date to pay which just went on and on and never came," he said.
Lincoln Theatre Royal's history of financial challenges
2008 - City of Lincoln Council announced it would stop giving a grant of more than £170,000 to the theatre
2010 - A company run by Mr Dickens agreed to take over the running of the theatre
2012 - Mr Dickens' company 'Lincoln Theatre Limited' and the holding company 'Lincoln Theatre (Holdings) Limited' became insolvent. A document from the liquidators seen by the BBC shows the companies owed five known creditors £407,446
2015 - 'The Pantomime Partnership Limited', a new company run by Mrs Dickens after the 2012 insolvency, also went into liquidation, owing a list of 23 known creditors £328,837
Among the companies who carried out work for the company running the theatre was the printing and design company TY3 Media, which produced brochures, flyers and posters in 2014.
Mark Taylor, who runs the company, said he was still waiting for £8,564 which was invoiced to "The Pantomime Partnership Limited" and another company called "ID Plays Ltd".
Mr Taylor said: "When I was speaking to Nicola and Ian, they were saying they were selling their business, he was having meetings in London, it was a very stressful time for him. He said he was very ill over this situation (but) on the sale of the business, we'd get our payments.
"In the interim he was trying to negotiate paying on a monthly basis, or a weekly basis, to try to clear up the debt quicker.
"Overnight he disappeared again, didn't make any phone calls, didn't make his first payment. At that point we took it to court. And that was the last contact we had from him."
In a statement, Mr and Mrs Dickens and Mr Marston told the BBC they were fighting until the 11th hour to maintain the company (The Pantomime Partnership Limited) and make payments where they were due.
They claimed that by forming a new company to run the theatre (Moonstone Entertainments Ltd), "the debts were carried forward".
"We have never avoided paying a debt," they added.
The Pantomime Partnership is one of a list of companies that have been associated with either Lincoln Theatre Royal or three of its staff - Ian Dickens, Nicola Dickens and Ian Marston - since 2010.
Twelve have now ceased trading: Six were liquidated, six were dissolved by the companies' directors and three of them have changed names. Two of those companies - "Lincoln Theatre (Holdings) Limited" and "Lincoln Theatre Limited" - were liquidated by Gary Pettit from PBC Business Recovery and Insolvency.
Speaking about the number of companies that were opened and closed he said: "[When] it comes down to it's not right, but the law doesn't prevent you from raising the ashes of old and carrying on."
The BBC attempted to contact all 28 known creditors from the liquidations of "Lincoln Theatre Ltd'/'Lincoln Theatre (Holdings) Ltd" and "The Pantomime Partnership", as well as creditors from the touring company "Ian Dickens Productions International Limited".
Many have not responded, but 11 said they still had not been paid a combined total of £461,469.
The BBC also asked Mr and Mrs Dickens and Mr Marston how much was still owing and to which creditors. They chose not to respond to that specific question.
In a joint statement, they said they had not paid three of those creditors, because they were in dispute with them.
They explained that funding was a huge challenge for anyone running an arts business and Lincoln Theatre Royal did not receive any public funding or grants.
They said: "We do not deny that we often have cash flow problems but this is common amongst many British businesses". They pointed out that they themselves had lost money.