Allitt victim's life 'hell' over £23,000 benefits row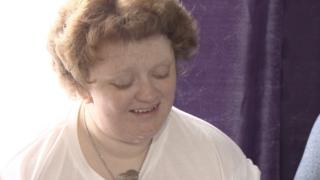 The parents of a woman left brain damaged by killer nurse Beverley Allitt say life was "sheer hell" after being told to pay back £23,000 in benefits.
Kayley Asher, 26, was given £11,500 in compensation after Allitt attacked her as a baby at Grantham Hospital.
The Department for Work and Pensions (DWP) ordered she pay back her benefits after she "failed to declare" the cash.
As first reported in the Mirror newspaper, the DWP said it had now revised its decision after an appeal.
Her father told the BBC on Monday they had nearly 18 months of sleepless nights worrying about what would happen.
Alan Asher said: "It's a great decision. But I think it's a pity the DWP put us through 18 months of, to be honest, sheer hell.
"It was part and parcel of everyday life. It was always there. When the postman arrived you were thinking 'is there a letter going to be dropped through the post?'"
Her mother Sharon Asher said their "finances were a bit short".
"Her compensation was not for everyday living, it was to compensate for what things she needed in the future."
Miss Asher, from Grantham, received an Employment and Support Allowance (ESA) for five years because she is unable to work, and also a £120-a-week disability allowance.
Her parents said they used that money for her day-to-day care and were given the £11,500 in compensation when she turned 18.
In December 2014, the family heard her benefits were being stopped because she failed to declare her payout when applying for the ESA, which is a means-tested benefit.
But in a letter received on Thursday, an official said: "I am able to change this decision.
"My revised decision is that Kayley Asher is entitled to contribution-based Employment and Support Allowance in Youth from 19 August 2010."
A DWP spokesman said: "After careful consideration of Kayley's case, we can confirm that she was entitled to Employment and Support Allowance in Youth at the time she made her claim."
Allitt was given 13 life sentences in 1993 for murdering four children and attacking nine others while working as a nurse at Grantham Hospital.
It is believed she injected then 13-month-old Miss Asher with air under her armpit, causing her to have two heart attacks.