New £1m Lincolnshire nature reserve visitors' centre opens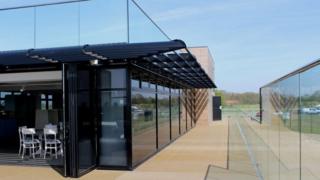 A new £1m visitor centre has opened at a nature reserve on the Lincolnshire coast to replace one destroyed in floods three years ago.
The original centre at Gibraltar Point, near Skegness had to be knocked down after it was flooded in the tidal surge in December 2013.
To protect it from any future flooding the new building is raised on stilts.
The reserve is run by the Lincolnshire Wildlife Trust and is home to thousands of birds and other animals.
Paul Learoyd, chief executive of the trust, described the new centre as "a wonderful gateway".
He said: "From the humble beginnings of a simple information kiosk opened in May 1963, we now have a visitor centre with commanding views of the nature reserve and with a number of features that reduce energy consumption and carbon emissions."