Skegness lifeboat crew forced to swim after boat sinks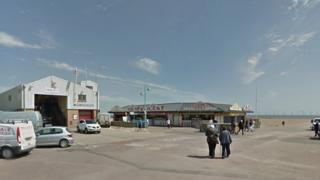 A lifeboat crew was forced to swim about 200m (656ft) back to shore after their boat sank whilst searching for a missing man.
Skegness RNLI D class inshore lifeboat was called out in the early hours to help the UK Coastguard in the search.
The three-man crew was forced to abandon the boat after it caught fire.
An eyewitness reported hearing an "explosion". A spokesperson for Skegness RNLI said: "The fire spread rapidly and the lifeboat sank."
"The three volunteer crew followed emergency procedures, making a Mayday call and then abandoning the lifeboat to swim approximately 200 metres to shore. All three are safe and uninjured," the spokesperson added.
A Coastguard helicopter and a lifeboat from Mablethorpe continued the search for the missing person, who was later found safe and well on land.
Eyewitness Barry Dobson, who lives in Winthorpe, said: "It was like there was an explosion - a thud in your chest."
The RNLI has launched an investigation into the incident. It has also been reported to the Marine Accident Investigation Branch.