Anger at Grantham A&E 'downgrading' proposal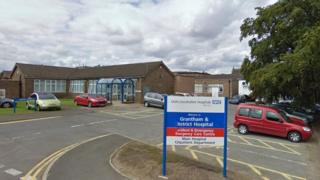 Proposals to change A&E services at a Lincolnshire hospital are "downgrading by the back door", an opponent says.
Grantham Hospital's A&E could become an "urgent care centre" under a review of the county's health services.
The hospital's NHS trust says Grantham's existing A&E services are limited so the change would make "little difference".
But Conservative county councillor Ray Wootten said more services were needed at Grantham.
Under the proposals urgent cases would be transported to Lincoln County or Boston Pilgrim hospitals, which both have full A&E departments.
No heart attacks
Dr Suneil Kapadia, medical director at the United Lincolnshire Hospitals Trust, said: "People should go to the right institution that can deliver the service they require.
"There will be little difference. At the moment there are a lot of restrictions on the type of patients that come to Grantham.
"Places that have expertise and high numbers coming through actually do a lot better. This is nothing to do with money," he added.
Grantham's A&E department has two consultants and does not currently treat acute surgery, multiple trauma or heart attacks, Dr Kapadia said.
About 28,000 people attend the hospital annually of which "up to 4,000 would warrant A&E", he added.
But Mr Wootten, of Lincolnshire County Council, said: "Surely more services are required at Grantham?"
He added that he was "really concerned" and the move was "a real downgrading by the back door".
A public consultation on any proposals that come out of the review is to be held in 2016.