Serco fined £1m over Lincolnshire council payment errors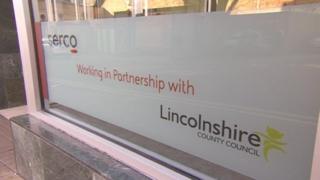 A company running council services in Lincolnshire has been fined more than £1m after failing to pay bills to suppliers and leaving staff without wages.
Serco won a £70m, five-year contract in 2015 to manage financial and personnel services for the county council.
Conservative council leader Martin Hill said the money had been withheld as "delivery hasn't been as it should".
Serco said it was "fully committed to putting things right".
More on this and other Lincolnshire stories
A number of head teachers had complained that errors by Serco had meant that staff were left unpaid.
Sean Hanson from Serco apologised when he met around 40 teachers from the county's schools last month.
'Held to account'
Mr Hill said the problems related to the transfer of data from the council computer systems to Serco's new IT system.
"Obviously there's a big incentive now on Serco to get these matters right," he said.
"The good news is they are making steady progress on that front.
"Serco have also put substantial extra resource in to get these problems sorted out and I think we are on the road to recovery on that."
In a statement Serco said: "While we are making progress, we recognise that our performance on the contract with Lincolnshire County Council has not met the required levels set and it is right that we are held to account."