Disabled Lincoln pupils create video games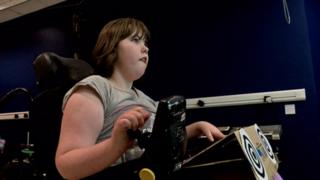 Children with disabilities in Lincolnshire have helped develop characters for video games.
Pupils at St Francis Special School in Lincoln, with researchers from the University of Lincoln, helped develop wheelchair motion-controlled games featuring disabled characters.
The project aims to improve gaming for those with severe mobility impairments.
It could also benefit disabled gamers' physical and social interaction.
Dr Kathrin Gerling, of the University of Lincoln, said: "What we do know from a lot of research is that movement and games have a lot of benefits for players.
"But if you're using a wheelchair it's really hard to get access to these games."
The team is developing more games for disabled users.
In 2012, a detailed set of guidelines was published to help video game developers cater for users with accessibility issues.