Stone 'running out' at Lincoln Cathedral quarry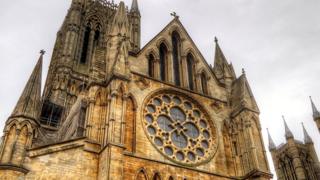 A 900-year-old cathedral is close to running out of stone for vital repairs.
Restoration experts at Lincoln Cathedral said there was an "urgent need" to find new limestone for decorative and structural work.
Works manager Carol Heidschuster said the current quarry at Riseholme Road, Lincoln, has about five years of stone left.
The cathedral's stonemasons use more than 100 tonnes of stone per year for maintenance and repairs.
Head stonemason Paul Booth said stone has always been quarried locally because it must be matched in quality, and colour to the same weather conditions.
Repairs must last at least 100 years.
"The stone is there, it's just that Lincoln is so developed now that all the best quarry sites have been built on," he said.
"We just have to use our team of geologists and professionals to find the right source."
Colin Davy of Lincolnshire County Council said: "Both the cathedral and castle are iconic buildings for Lincolnshire and are incredibly important.
"We've got to protect them and make sure we've got the raw materials necessary for those buildings to be repaired in the future."