Lincoln cyclist fatally struck by bus after 'braking hard'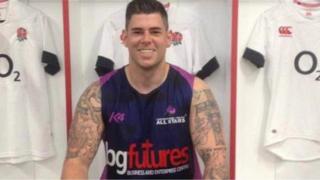 A cyclist was fatally struck by a bus after braking hard and going over his handlebars, an inquest has heard.
Michael Beard, 31, worked at Lincoln Christ's Hospital School and was on his way to a rugby tournament when he was killed in March 2015.
Lincoln Coroners' Court heard Mr Beard was cycling "with some purpose" before falling off his bike and sliding under a bus.
His death was recorded as being the result of a road traffic collision.
The inquest heard Mr Beard "may have been rushing" and lost control of his bicycle after "braking fiercely" as he approached the junction of Ruskin Avenue and Wragby Road.
However, evidence from Lincolnshire Police said Mr Beard's speed was not excessive and was estimated to have been between 12mph (19km/h) and 15mph (24km/h).
Giving evidence, PC Michelle Ford was asked if the bus driver would have had any chance of stopping before Mr Beard was hit by the rear wheels of the bus after the initial impact.
She said it was unlikely, as even at slow speed, and taking into account the driver's reaction time, it would have meant the bus would have travelled several metres.
There were no defects found with either vehicle.
Coroner Paul Smith described it as a "tragic incident" that was over "in a matter of seconds."
He told the inquest he was "touched by the number of tributes left at the time" and "it is clear that Mr Beard will be missed".