Spalding double murder inquiry: Vicar pays tribute to victims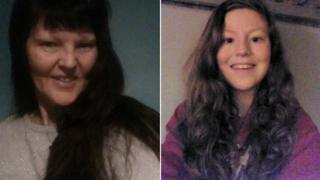 The vicar at a church attended by woman and her 13-year-old daughter who were killed at their home in Spalding has said they will be missed "so much".
Katie Edwards and 49-year-old Elizabeth Edwards were found at their home in Dawson Avenue on 15 April.
Two 14-year-olds have been charged with their murders.
The Reverend Mike Chesher, of St Paul's Church, Spalding, said the the deaths were continuing to affect people living in the town.
"It's at times like this when people wish to draw together and they wish to share together and comfort one another and support one another," he said.
"I think that's what's happening here and I think they value the opportunity to come to these services."
The vicar said Elizabeth Edwards had attended the church for a number of years and had run the children's choir and helped organise events for young people.
"The church community miss these two people so much and I think we will miss them so more as time goes on because Liz was so committed to the life of the church in so many ways," he said.