Guilty plea to £23,000 distraction theft on 93-year-old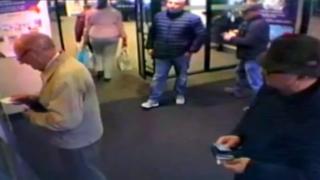 A man has pleaded guilty to stealing £23,000 from a 93-year-old after taking his card at a Lincolnshire cash machine.
Ion Anghel, 48, of Sherwood Street, Wolverhampton admitted the theft at a hearing at Lincoln Crown Court.
The victim had his card stolen after being distracted by three men while withdrawing cash from a NatWest bank in Grantham on 14 December.
The man's details were later used to transfer the money from his account.
Anghel was remanded in custody and will be sentenced on Friday.
Lincolnshire Police said "inquiries were ongoing in relation to any other individuals suspected of being involved."