Protest held in Lincoln over fire service cuts plan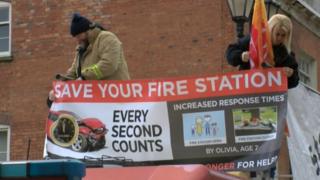 A protest has been held over proposals to stop 24-hour staffing at Lincoln South fire station.
The plans would see firefighters on shift at the station during the day but only on call in the evening.
The Fire Brigades Union said this would increase response times at night and could put lives at risk.
The fire service said it was not immune to the need to make savings and a consultation on the plans would not be completed until May.
Dan Taylor, from the FBU in Lincolnshire, said response times would increase by a minimum of two minutes overnight.
'Watching it burn'
"When you talk about big businesses, the cathedral or the castle, they need an immediate response.
"If you aren't there in two or three minutes it is the difference between taking some action or just standing back and watching it burn."
He said he hoped the protest, held on Lincoln High Street, would encourage the public to respond to the consultation.
Changing the staffing arrangements at Lincoln South alongside closer working with the ambulance service and charging businesses for false alarms are expected to help the service save about £1.6m over three years.
Nick Borrill, acting chief fire officer for Lincolnshire Fire and Rescue, said the proposed model for Lincoln South had been used successfully at other fire stations and the public would notice very little difference.
"Yes, there will be an impact on response times but given the reduction in the number of incidents over the years we do not see the risk associated with this as significant."