Binned dead dogs turn up at Lincolnshire recycling plant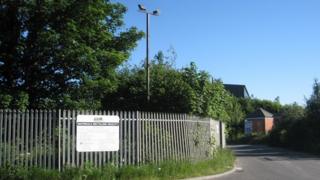 Three dead dogs dumped in recycling bins have turned up at a Lincolnshire processing site, prompting calls for people to take dead pets to a vet.
The bodies of an Alsatian, a Terrier Cross and an unspecified breed were moved from kerbside bins in South Kesteven to a Caythorpe recycling site.
The plant said a dead chicken, two ducks, a pigeon and the leg of a deer had also recently arrived.
Lincolnshire County Council said staff were left shocked by the finds.
A spokesman said it showed a "total disregard for the animal, recycling and the people who have to deal with this".
Warning: Some readers may find the images below distressing
Ross Booth, from Mid UK Recycling, said: "The initial feeling from our staff was shock, shortly followed by distress at what they had found.
"This is obviously not what they would or should expect to find and have to deal with."
Reg Shore, the council's executive member for waste and recycling, said: "I must stress that this problem is caused by an inconsiderate, tiny minority as virtually all residents in the wider Grantham area understand green issues and are extremely supportive of good recycling."