Two die and two injured in Lincolnshire car crash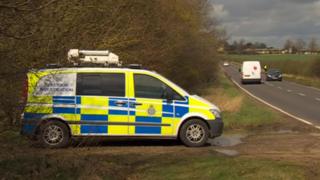 Two people died and two others were seriously injured in a crash on the A15 near Cranwell in Lincolnshire.
Two cars collided shortly after 10:00 BST on Monday, said police.
The driver of one of the cars, a 63-year-old local man, died at the scene. His passenger, a woman aged 58, was airlifted to hospital where she remains in a serious condition.
The passenger of the other car, a 59-year-old local woman, died shortly after the collision.
The driver of the car, a local man aged 63, was seriously injured and is currently in hospital.
Sgt Ewan Gell from Lincolnshire Police said there was "a scene of carnage".
"It's not something anybody wants to attend," he said.
"But unfortunately somebody has to go there and deal with the aftermath."
The crash now means that 18 people have died on Lincolnshire's roads since the start of the year, compared with six over the same period last year.