Funding boost for Mrs Smith's Victorian cottage museum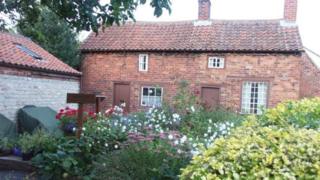 A closed Victorian museum has received almost £190,000 of Heritage Lottery Fund money to help bring it back into use.
Mrs Smith's Cottage in Navenby, Lincolnshire, closed after inspectors declared its roof unsafe in 2013.
North Kesteven District Council, which owns the museum, said the first phase of funding will be used to completely remove the roof and assess the damage.
A further £400,000 will be needed to complete the work.
The cottage is named after Hilda Smith, who lived there for more than 70 years until her death in 1995, aged 102.
It was then bought by the district council and turned into a museum.
'Not quite a Luddite'
Officials said it was important to restore the house to its former glory as it was one of only a few examples in the county offering a "glimpse into a by-gone era".
Jeffery Kenyon from the authority said it has "remained largely unchanged".
He said: "Mrs Smith wasn't quite a Luddite but she wasn't keen on putting in modern conveniences."
Despite being forced to have a cold water pipe and inside toilet fitted she still used a well and outside privy, he said.
Mr Kenyon said even when Mrs Smith was well in her 90s she still accessed her bedroom via a ladder.
Talking about the house and the work required, he said: "It's of relatively poor construction and was never designed to last this long.
"We have a noticeable bend in the roof which is the major part of what we are trying to restore."
The total funding needed to carry out the works will be about £600,000; £187,500 for phase one and £403,800 for phase two.
It is hoped the museum will reopen in 2018.