Manhunt after armed robbery at Branston Co-operative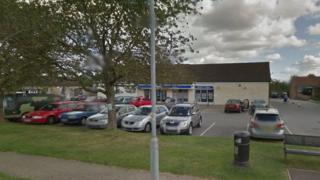 Police are hunting for a man who stole cash in an armed raid on a Co-operative store in Lincolnshire.
Officers said a man wielding a knife threatened a member of staff at the shop in Branston on Friday night before making off with takings.
The suspect is described as white, aged about 30, and was wearing a parka-type jacket, jeans and balaclava.
The robbery follows three separate incidents in the Lincoln area over the past two weeks.
Two Co-operative stores in the city were targeted and a woman was threatened with a knife while at a cash point at Sainsbury's on Carholme Road.
Police said it was too early to say if the raids were linked.