Serco payment errors 'put pupils at risk' school governor claims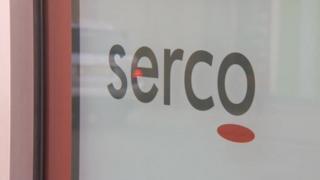 Payment defaults by a private firm with a county council contract put primary school pupils at risk and led to repossessions, it has been claimed.
Serco took over a £70m, five-year contract to run Lincolnshire County Council's HR and finance support services last April.
Errors led to wages being unpaid, school phone lines being cut and sanitary facilities repossessed.
The company said it is working hard to clear outstanding payments.
See more on this and other stories at BBC Lincolnshire Live
Winchelsea Primary School in Ruskington said its phone lines were cut after payments were missed by Serco.
Terry Boston, vice-chair of the board of school governors, said the action could have put pupils at risk.
"I do feel its put the children in danger," he said.
"We need to be able to call the police, we need to be able to call the fire brigade, we need to be able to call parents but if the telephones are taken off us we are in a serious mess."
"If there had been a major incident, I don't know what would have happened," he said.
Mr Boston called for the county council to consider cancelling Serco's contract.
He said: "In any kind of business if somebody isn't performing... you would get rid of them."
"It is incompetence at the highest level."
The deal is supposed to save the authority £14m, but many schools have complained about staff wages being incorrect and suppliers not being paid.
A business manager at another school, who asked to remain anonymous, described the situation as "appalling" and said she was working 70 hours a week "to put out the fires started by Serco".
She said sanitary bins and waste equipment had been repossessed, causing problems for children in nappies and female staff, some of who are pregnant.
Judith Hetherington-Smith, chief information officer at Lincolnshire County Council, said the authority had taken action to ensure Serco met the conditions of its contract.
"There are measures in the contract which mean if the performance isn't up to standard we reduce what we pay," she said.
The amount of the reduction has not been disclosed.
Serco said it is making "good progress", but admitted some schools are still experiencing problems.
The firm, which provides a wide range of public services, hit the headlines in 2013 when it, along with G4S, lost tagging contracts following allegations they charged the government for tagging people who were either dead or in jail.