Bigger pool appeal for blind Mablethorpe seals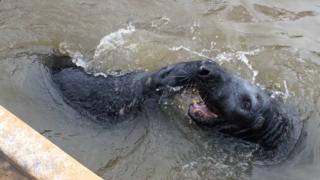 A wildlife centre on the Lincolnshire coast says it "desperately" needs to raise £30,000 to build a bigger pool for two blind seals.
Mablethorpe Seal Sanctuary said Nooky, aged 31, and Popeye, 24, have outgrown their current pool.
Centre director Dennis Drew said each seal now weighed about 300kg and needed more room.
"The appeal is to help us build a better home for these beautiful creatures," he said.
Mr Drew said the seals had been at the centre since they were pups, and despite their failing eyesight were able to find their way around the pool.
Mr Drew said: "We hope people will see the plight of these seals and help us to complete the job quicker, and give Nooky and Popeye a better quality of life.
"We've had 36,000 views on the Facebook page, and if people could just donate £1 we would hit the target."
Mablethorpe Seal Sanctuary, along with another centre in Skegness, provides care for seals found abandoned in and around Donna Nook Nature Reserve.
Many are released back into the wild but some are not able to fend for themselves, the centre said.