Dog dumped on verge with dead pups in chip shop bag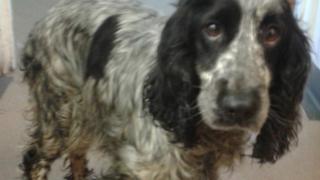 A dog was found dumped on a verge with her newborn pups dead in a plastic fish and chip shop bag, the RSPCA said.
The spaniel, named Carly, was found in Midville, near Boston, Lincolnshire, on Sunday.
Local councillor Paul Skinner, who came across her while out cycling, said she looked like she had tears in her eyes and was very upset and anxious.
The RSPCA said it was a "terribly upsetting incident" and is appealing for information.
More on this and other stories from across the county on our Lincolnshire Live page
Inspector Becky Harper said: "It looks like this little dog has been cruelly dumped along with her newborn pups. We don't know whether the puppies were stillborn or whether they died because of the cold.
"Fortunately Carly appears to be in good health and she is now being well looked after.
"We are appealing to anyone who might know more about how Carly came to be abandoned in this way or where she has come from."
The RSPCA said the dog's microchip showed she is called Carly and is three-years-old.
Mr Skinner described finding Carly and her four dead pups as "shocking and upsetting".
He said he was horrified to see the pups in the bag and could see Carly was "visibly distraught."
She appeared to have "tears in her eyes as she rested her head on the bag," he said.
"She was obviously a good mum."
He added: "What is really concerning is we have charities around the county who do an excellent job re-homing and rescuing animals.
"You would like to think if someone was in a desperate situation they would call one of them."