Wildlife police puzzled by dead otter find in Tetford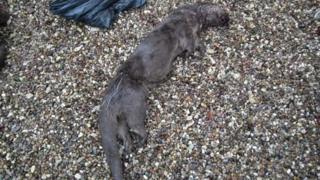 Wildlife officers said they are puzzled as to why two dead snared otters were dumped on a public footpath.
The otters were found in Tetford, Lincolnshire, on a path running from the village to Bluestone Heath Road.
Police said the otters had been snared in a different location before being moved.
PC Nick Willey, of Lincolnshire Police, described it as a "very unusual find" and appealed for anyone with information to get in touch.
He said: "Some people might say they've probably been snared to protect large stocks of fish - others have said they could have got into a snare that was set for a fox."
"There is nothing illegal about using a snare to manage vermin - they can be set for foxes and rabbits, but it is illegal to snare protected species, such as otters."
However, PC Willey said it was "very strange" the otters had been moved from wherever they were snared and were not near any watercourse.
"The difficulty for me is to prove the intent that the snares were used to catch otters," he added.
Badgers, otters, red squirrels, hedgehogs, pine martins and polecats are protected species and cannot be snared unless a specific licence is issued.