Georg Hein stole dead school friend's identity to join RAF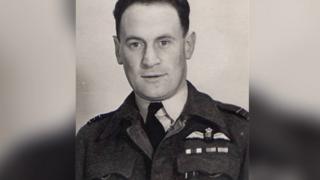 A German-Jewish refugee took on the identity of a dead school friend in order to become a wartime RAF bomber pilot, it has been revealed.
Georg Hein, who was born in Hanover, was sent to London by his family in 1934 as the Nazis rose to power.
His son, Marc Stevens, said his real identity only came to light after he started researching his life.
He said his father had taken on the identity of a school friend called Peter Stevens.
"The day Germany invaded Poland Georg Hein disappeared off the face of the earth and his school mate Peter Stevens - who had died - was resurrected," he said.
Mr Hein studied at the Regent Street Polytechnic in London.
"This is where he began the transition into the identity he later took of a pure-bred Englishman," said Mr Stevens.
At the outbreak of war Mr Hein wanted to join the fight, but he was German, his homeland was the enemy and he had also been in trouble with the police for theft.
Taking on his friend's identity meant a fresh start as a UK citizen, said Mr Stevens.
Under the guise of Peter Stevens, Mr Hein served with 144 Squadron at RAF Hemswell in Lincolnshire.
He took part in several bombing raids across the North Sea, seeing at firsthand an increasing number of spaces at the breakfast table due to his colleagues being captured or killed, said historian Phil Bonner.
Mr Hein's aircraft was hit during a raid over Germany on 7 September 1941.
Mr Bonner said Mr Hein flew his stricken aircraft as far as the Netherlands in a bid to escape but was captured after crash landing.
He spent the remainder of the war in a prisoner of war camp, before taking a job with MI6 and then emigrating to Canada.
Mr Stevens said his late father rarely spoke about his past while they were growing up.
He said: "There are still more questions than answers and my greatest regret is that I never had the chance to talk to him about what he had done and thank him."
See the full story on Yorkshire and Lincolnshire Inside Out on BBC One at 19:30 GMT.