Lincolnshire County Council children's centres get cuts reprieve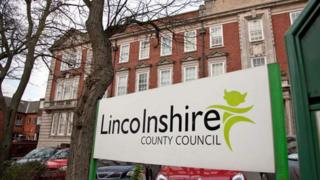 A planned £5m council budget cut affecting children's centres and rural bus routes will not now to take place due to an extra government grant.
Lincolnshire County Council had said 15 children's centres would close along with some bus routes and road-gritting as part of £42m budget cuts in 2016-17.
It is now proposed to keep funding in these areas at the current level for the next two years, said the council.
Martin Hill, leader of the Conservative council, tweeted he was "very pleased".
See more on this story and others from around Lincolnshire
The council has received additional government funding of £5.2m for the next financial year and £2.6m for 2017-18.
Conservative councillor Marc Jones said: "We are still faced with an incredibly tough challenge of finding a further £30m in savings in 2017-18 having already cut our budget by £42m."
The original budget proposals would have meant closing 15 children's centres and cutting £2m funding to commercial bus operators for a quarter of Lincolnshire's bus routes mainly in rural areas.
Road gritting would also have reduced from a third to a quarter of the road network.
The council is to continue with the "vast majority of the savings" proposed in the budget, according to the amendment to be proposed.
John Hough, the council's Labour group leader, said people would still be paying more council tax for fewer services.
"This is a first step but they need to do a lot more and they have got the money," he said.
"They are choosing not to spend that money. We are saying they should use it to preserve services and not cut them."
The plans are to be debated at a council budget meeting on Friday.