Armed Sutton Bridge rapist jailed after stand-off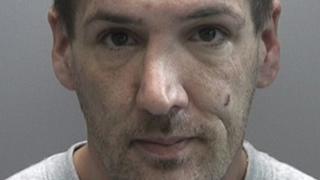 A rapist armed with a knife who barricaded himself inside a house resulting in a stand-off with police has been jailed.
Steven Saint had a large kitchen knife with him when police arrived at a house in Sutton Bridge, Lincolnshire, on 14 August 2015.
Lincoln Crown Court heard how he barricaded himself in a bedroom before striking out as police went in.
He was handed an eight-year sentence after admitting two counts of rape.
Saint, 37, of no fixed address, also admitted a further charge of assaulting a police officer on the same date with intent to resist arrest.
'Full riot gear'
Jonathon Dee, prosecuting, said the officer who initially arrived at the property retreated out of the building and called for back-up after being confronted by Saint.
Mr Dee said: "Other officers arrived in full riot gear. The defendant had barricaded himself in a bedroom.
"They tried to talk him round but he repeatedly told them to go away and said he was going to kill himself."
Police forced their way into the room but as they entered Saint twice struck out with the knife, only for both blows to be blocked by an officer's riot shield.
Mr Dee added: "The officers withdrew and regrouped. He [Saint] was told he was going to be Tasered if he didn't surrender himself. He didn't surrender and ultimately the Taser was deployed."
Mr Dee said the rape occurred earlier in the day.
John McNally, defending, said Saint should be given credit for pleading guilty to the offences.
He said Saint has shown remorse and self-loathing for what he did.