Boston Stump to reopen after flood work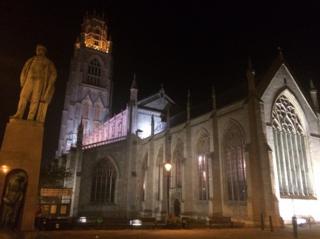 A flood-hit church known for its tall tower is to reopen on Tuesday after a temporary closure to install a new heating system.
St Botolph's Church, known as Boston Stump, was badly damaged following a tidal surge in 2013 that hit the Lincolnshire town of Boston.
The church reopened soon after the floods but work has been on-going to repair the damage.
Reverend Alyson Buxton said: "We can't wait to get back in there.
"We've got 90% of the work done so we're nearly there."
The church had closed in the new year for the new heating system to be fitted.
Rev Buxton said the remaining repairs would be completed by "the middle of this year".
Fixing problems was complicated by permissions needed to carry out work on the Grade II listed church, she said.
"It's amazing really, the floods were in December 2013 and we're still carrying out repairs two years on."