College course for Lincoln taxi drivers 'ridiculous'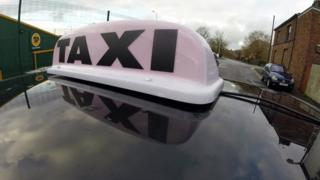 Long-serving cab drivers in Lincoln say it is "ridiculous" they are being made to take a college course to learn about the role of a taxi driver.
The City of Lincoln Council is making it compulsory for all drivers to take a qualification covering safety, routes and fares and safeguarding children.
The BTEC qualification also involves learning about transporting luggage, parcels and other items.
Some drivers claim it will cost them up to £1,000 in fees and lost earnings.
Cabbie Jim Kelsley said: "I have been driving 38 years, so what difference is it going to make to my driving and how I treat customers?"
He said the whole idea was "ridiculous".
'Consistent service'
Mr Kelsey suggested the council could apply the rules to new licence holders, but not penalise experienced drivers.
Fellow driver Helen Glover said: "It won't improve what we do - It's a £1,000 down the drain."
People also took to Facebook to comment.
Lenny Brassneck wrote: "We have it up here on Merseyside, it's a stupid multiple choice questionnaire on a computer... It's of no use to anyone."
Councillor Ric Metcalfe, leader of the City of Lincoln Council, said he "fully understood" the reaction from the drivers.
He added: "The council has an important role in public protection. Everybody who gets in a taxi needs to know they're getting a good and consistent service."
He said: "This is really about training, arising from new risks that councils across the country are more aware of - one of the modules is about safeguarding children."
Answering concerns about the costs involved, he added: "Taxi drivers have a year in which to complete the course, and it should be possible to complete it without loss of earnings."
The policy will come into force on 7 March.
---
Modules in the new course
Road safety when driving passengers in a taxi or private hire vehicle
Professional customer service
Taxi and private hire vehicle maintenance and safety inspections
The regulatory framework of the taxi and private hire industry
Taxi and private hire services for passengers who require assistance
Routes and fares in the taxi and private hire vehicle industries
Transporting of parcels, luggage and other items in the taxi and private hire industries
Transporting of children and young persons by taxi or private hire vehicle
---