Lincolnshire hare coursers caught 'in record number'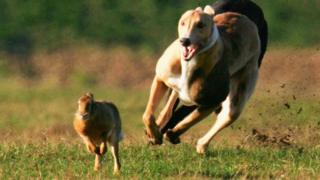 A record number of people have been arrested for hare coursing in Lincolnshire, police have said.
Over the past five months, 161 men were arrested or issued with a summons, with 18 vehicles seized.
More than 75 others suspected of hare coursing were asked to leave the county.
Police said the number of arrests was down to increased vigilance and a greater willingness by the public to report crime.
Read more on this story and others from Lincolnshire
The force said targeted patrols and training of local officers were also playing a part, under Operation Galileo, which was set up to tackle coursers.
Previously, a small team of wildlife officers were responsible for the entire county.
'Scourge' of rural England
Ch Insp Jim Tyner, of Lincolnshire Police, said: "We have been promoting our enforcement activity and hopefully that encourages more people to report incidents to us.
"Operation Galileo continues and I remain determined that we use all legislative powers available to us to deal with the scourge of hare coursing.
"Where there isn't enough evidence for a prosecution we will use other disruption tactics to deter people from visiting the county for hare coursing".
In some of the latest cases, coursers from the West Midlands, Surrey, Nottinghamshire, Leicestershire and North Yorkshire have been dealt with.
Last year, 65 arrests were made during the whole season, which runs from September to March.
---
Hare coursing
Since 2005, hare coursing has been illegal throughout the UK. The Hunting Act 2004 makes it an offence to hunt wild mammals with dogs
The dogs - usually greyhounds, lurchers or salukis - are on a slip lead, threaded so it can be easily released
The coursers will walk along the field to frighten the hare into the open
The dog catches the hare and kills it by "ragging" it - shaking the animal in its teeth
The dead hare is usually left in the field or thrown in a ditch
Source: Lincolnshire Police
---