Plans submitted for £3m homeless centre in Lincoln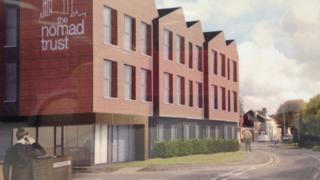 A charitable trust is seeking permission for a £3m centre for the homeless in Lincoln.
The Nomad Trust wants to demolish existing accommodation on Rumbold Street, and create a new purpose-built centre for vulnerable adults.
If successful, the new build would include a day centre and self-contained apartments.
Ian Sackree, Trust chairman, said the facility "would be a huge improvement on what we can offer people now".
He said: "It would give people who do find themselves homeless some real structure to help build their return to what you and I might call mainstream living."