Dualling study for busy trunk road between Lincoln and Scunthorpe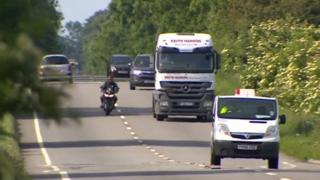 Three neighbouring councils are working together to assess the feasibility of dualling parts of the A15 between Scunthorpe and Lincoln.
The £40,000 study, involving North Lincolnshire, West Lindsey and Lincolnshire County Councils, will assess the benefits to the region.
The study will look at increasing capacity along the route and putting safety improvements in place.
It will also look at the possibility of building new houses in the area.
'Fag packet'
Rob Waltham, deputy leader of North Lincolnshire Council, said: "A lot of this talk abut the A15 has come from previous talks on devolution, and will look at growth, jobs and housing along the corridor."
He said: "Too often local government operates within its own boundaries but devolution has given us an opportunity to stop that."
"Lincolnshire is a great county, but I think once we get this infrastructure improved we will have a much greater place to live and work," he said.
Mr Waltham said the plans were "fag packet stuff" at the moment, with no estimates in place for the overall cost of the scheme.
However, he said new housing and business opportunities would help provide capital for the road widening work.
Local firms and residents have largely welcomed the study, including Peter Denby - managing director of Lincoln-based Denby Transport.
He said: "Quite honestly, it's not really fit for purpose now."
"It's a very narrow road, and as we all know there are many occasions when the road is blocked because of an accident."
A report is expected in June.