Sophie Robinson: Brain tumour fundraiser dies at home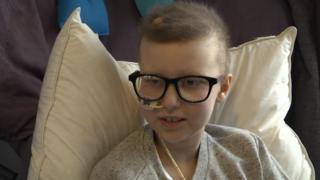 A 12-year-old girl who raised more than £35,000 for new brain tumour research, has died at her home in Lincoln.
Sophie Robinson was diagnosed with cancer in 2014 and put her efforts into fundraising while battling the disease.
Her family said on Facebook she put up a "fight right to the end" and died peacefully, on Tuesday.
Professor David Walker, from the Children's Brain Tumour Research Centre, in Nottingham, where she was treated, said she was "remarkable".
The youngster told the BBC in December that she raised money in the hope of making people "feel better".
Sophie organised charity bike rides and auctions to help fund new treatment at the centre, based at the University of Nottingham and Nottingham Children's Hospital.
She was fighting a grade 4 brain tumour called a medulloblastoma.
The family said Sophie inspired so many people and "warmed so many hearts".
The message said: "Our hearts are breaking, we are empty... the house is too quite and I hate it but I know you're at rest now baby girl."
Prof Walker said everyone was "devastated" by the news.
He said: "We were very fortunate to get to know Sophie extremely well during her time receiving treatment.
"She was a remarkable young lady whose determination and positivity in the face of her illness was an inspiration to many.
"She was particularly passionate about the fundraising work that she did and was determined that she should help others who are affected by this disease in the future.
"Her family should be immensely proud of the legacy which she leaves."
Sophie raised more than £35,000 including £7,000 towards the centre's Christmas appeal.