Carillion Construction fined £200k over rail worker death near Saxilby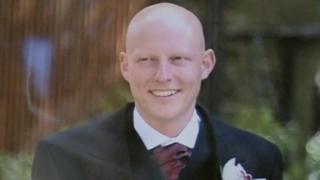 A construction firm has been fined £200,000 over the death of a rail worker.
Scott Dobson was leading a track maintenance team when he was hit by a train in Lincolnshire in December 2012.
Mr Dobson, from Doncaster, who was employed by Carillion Construction Ltd, was involved in two incidents months before his death.
A court heard Mr Dobson should not have been in a safety role until the incidents had been fully investigated.
'Missed opportunities'
Jonathan Ashley-Norman, prosecuting for the Office of Rail and Road, told Lincoln Crown Court that the failures at Carillion did not directly cause Mr Dobson's death, but created the circumstances of what occurred near Saxilby, Lincolnshire.
"Carillion accepts there were missed opportunities to prevent him working in a safety-critical role," Mr Ashley-Norman said.
A report into the death of Mr Dobson, by the Rail Accident Investigation Branch (RAIB) in 2013, highlighted a series of failings.
A reconstruction by the RAIB showed Mr Dobson had been standing in an unsafe position on the track.
Network Rail told the BBC in February 2014 safety supervisors would no longer be employed through agencies.
Gordon Menzies, representing Carillion, offered an "unreserved apology" to Mr Dobson's family and said the company has introduced measures to "tighten procedures".
After reading a victim impact statement from Mr Dobson's mother, Judge Simon Hirst said it was plain the self-employed worker was "much loved and much missed".
Carillion have 56 days to pay the £200,000 fine. They were also ordered to pay legal costs of £36,579.