'James Bond' car model sought to recreate photo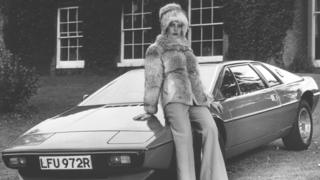 The owner of the first production Lotus Esprit is attempting to track down a female model to recreate a famous photograph.
Owner Gordon Masson said he wants to reconstruct the shot to celebrate the 40th anniversary of the car.
The original picture was taken at Louth Golf Club in 1976 by a local photographer.
The Lotus Esprit model was made famous by Roger Moore as James Bond in The Spy Who Loved Me and For Your Eyes Only.
Mr Masson, from Aberdeen, believes the picture was taken in August or September 1976 for a newspaper.
The photograph was taken at the Lincolnshire course because it had been sent to Highcliff Motors, Grimsby, as part of the initial sale run.
"I definitely want to bring the car down for the 40th anniversary of that photograph" he said.
"We'll get the photograph taken again with someone. If it's that girl that'd be fantastic, if it's not then someone else will step in".
---
James Bond and the Lotus Esprit
The Lotus Esprit S1 was used by Roger Moore in the 1977 film The Spy Who Loved Me.
The car, known as Wet Nellie, turned into a submarine and was used during filming in the Bahamas.
Moore drives a later version of the Lotus Esprit, the Turbo, in For Your Eyes Only in 1981.
---
Mr Masson, who has owned the car for 32 years, said Lotus has been unable to help him track down the woman because it was not one of its photographs.