Norovirus crisis continues at Lincoln County Hospital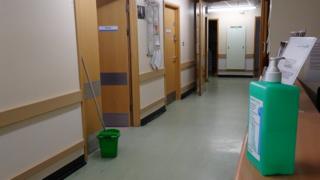 A hospital is still dealing with a "serious" norovirus outbreak - more than three weeks after it first began.
Patients and staff at Lincoln County Hospital were first hit by the winter vomiting bug on 18 December.
Seven wards are currently closed and access is being restricted in three other wards, affecting 50 beds.
United Lincolnshire Hospitals NHS Trust, which manages the hospital, has also restricted access to two other hospitals in the county.
'New cases'
Andrew Prydderch, the trust's deputy director of operations, said the situation "remains difficult".
"We've had a lot of attendances over the weekend as we expected, with numbers higher than 200 coming into A&E on most of the days," he said.
"We've had a continuation of the outbreak, both from existing cases on the wards but also quite a few new cases coming in as well."
Three wards at the hospital are being cleaned in the hope they will reopen in the next 24 hours.
The trust is asking anyone planning to visit Lincoln County, Boston Pilgrim or Grantham District hospitals to stay at home if they, or their family members, have had diarrhoea, vomiting or "flu-like" symptoms in the past three days.
A trust spokeswoman said the request was a precaution to "contain [the outbreak] as much as possible".
Norovirus and its symptoms
About 12 to 48 hours after becoming infected, the norovirus causes a sudden onset of nausea followed by projectile vomiting and diarrhoea
Some people may have a fever, headaches and aching limbs
Most people make a full recovery within one to two days, but the very old and very young risk becoming dehydrated which may require hospital treatment
The virus is easily transmitted from one person to another by contact with an infected person or through contaminated food or drink, or touching contaminated surfaces or objects
There is no treatment other than to let the illness run its course
Source: NHS Choices website