Life-saving Skegness RNLI coxswain gets MBE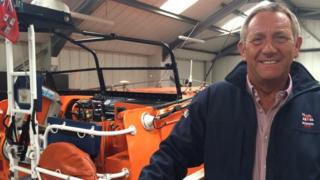 A lifeboat crewman who has saved dozens of lives at sea has been given an MBE for his work with the Royal National Lifeboat Institution.
Ray Chapman, a 60-year-old from Skegness, once spent nine hours battling high winds and freezing weather to rescue fisherman from a sinking ship in the North Sea.
He receives his award for 44 years of dedication to maritime safety.
Mr Chapman said he was "flabbergasted" by the award.
'Inspirational' crewman
His rescue of the fishing boat Sarah in December 2011 showed his "hands-on and motivational leadership", the commendation said.
The rescue involved a fishing boat that was taking on water and had lost its steerage in high winds.
The crew of seven, including Mr Chapman, took seven hours to tow the boat to shore.
"This award is not for me - it is for all of us at the station," Mr Chapman said.
An RNLI spokesman said: "A coxswain since 2012, Ray has spent the last 44 years dedicated to saving lives at sea, whether that's on board the lifeboat, giving sea safety talks to school children or raising funds for the charity."
Alan Fisher, Skegness lifeboat operations manager, said: 'When things get sticky out on the water, the other crew look up to him for inspiration because of the wealth of his knowledge."
Mr Chapman said: "I was flabbergasted when I received the letter - you never expect something like this.
Other New Year Honours recipients in Lincolnshire include Richard King of Spalding who was awarded a British Empire Medal (BEM) for his work with the fire and rescue service, including training co-responders and improving relations with paramedics.
Mrs Dorothy Alexander, 94, also received a BEM for her work with the Bourne Women's Institute for almost 70 years.