Lincoln County Hospital hit by norovirus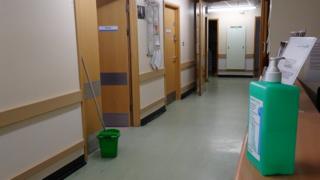 More than quarter of beds at Lincoln County Hospital are closed to new patients after an episode of the winter vomiting bug norovirus.
Admissions are affected on eight wards and 160 beds at the hospital since the outbreak 10 days ago.
Andrew Prydderch, deputy director of operations at the hospital, said staff were working to eradicate the virus.
Visitors are being asked to stay away from the hospital in "all but exceptional circumstances".
'A&E full'
A hospital spokesman said the affected wards would reopen to new admissions once they had been deep-cleaned and "symptom-free for 72 hours".
Mr Prydderch said: "Our biggest problem … has been getting patients out of the accident and emergency and into medical wards where they need admission.
"That has led to a bottleneck here so the A&E has been full most of the holiday period."
Anyone visiting a relative will be asked if they have had any symptoms of diarrhoea and vomiting in the past 72 hours, and will not be permitted to visit if they have.
No children will be permitted to enter medical wards during this outbreak, the spokesman added.
Dr Suneil Kapadia, medical director of United Lincolnshire Hospitals NHS Trust, said: "Exceptionally, we have also seen that those suffering from norovirus have taken longer than we would usually expect to recover, often due to the frail nature of these patients."
Norovirus and its symptoms
About 12 to 48 hours after becoming infected, the norovirus causes a sudden onset of nausea followed by projectile vomiting and diarrhoea
Some people may have a fever, headaches and aching limbs
Most people make a full recovery within one to two days, but the very old and very young risk becoming dehydrated which may require hospital treatment
The virus is easily transmitted from one person to another by contact with an infected person or through contaminated food or drink, or touching contaminated surfaces or objects
There is no treatment other than to let the illness run its course
Source: NHS Choices website