Judge warns Grantham drugs gang of lengthy jail sentences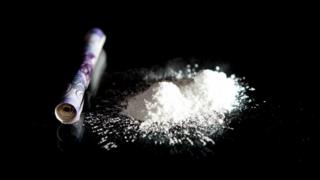 Members of an organised crime gang who "flooded" a town with large quantities of cocaine and heroin have been told they face lengthy jail sentences.
The three men were found guilty of the offences after a 10-week trial.
They will be sentenced in the new year along with 10 other people who previously admitted their roles.
Prosecutors said the gang based in Grantham, Lincolnshire, sold drugs "on a huge scale for what must have been huge profits".
At Lincoln Crown Court on Thursday, the men - Jamie Darby, 39 and Adam Gill, 29, from Grantham and James Straw, 50, from Newark, Nottinghamshire - were found guilty of conspiracy to supply Class A and Class B drugs.
They included cocaine, heroin and M-Cat.
'Rarely took risk himself'
The charges all related to a period between January and October 2014 when the jury heard "massive" amounts of drugs were brought into the town by the gang.
The group was headed up by 46-year-old Jonathan Ferry from Grantham, who previously admitted the charges.
Matthew Lowe, prosecuting, said Ferry was involved with other organised crime groups from Nottinghamshire and Manchester.
"Ferry was sufficiently well established so as to be able to obtain supplies of heroin and cocaine in huge quantities," said Mr Lowe.
"He used others to do the work for him. He rarely took the risk himself."
Mr Lowe said others involved played important roles including collecting, storing, preparing and distributing the drugs.
He said they sourced their drugs from at least two other criminal groups - based in the Retford and Ollerton areas of Nottinghamshire, as well as Manchester.
Judge John Pini at Lincoln Crown Court said they "will be facing a substantial prison sentence".