Roman skeletons found in Lincoln are 'most significant in years'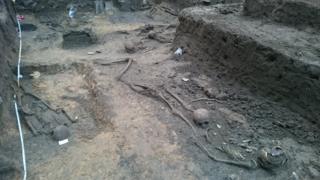 The discovery of 23 Roman skeletons in Lincoln is one of the most significant finds in the city in recent years, say archaeologists.
Despite being a major Roman colony, few burial sites from the era have been unearthed compared to places like York or Winchester.
Now experts say they hope to "fill a huge gap our knowledge" about people who lived there in ancient times.
The dig took place in the Newland area, ahead of the construction of flats.
A decorated comb - probably made from bone - was the only item found with the skeletons.
Much of present-day Lincoln is built over the remains of one of the most important settlements in Roman Britain.
The Newlands site is outside the old Roman wall, near Brayford Pool - a natural widening of the River Witham which was used as a port by the Romans.
Kieron Manning, the city council's planning manager, said: "The Roman cemetery along Newland has been one of the most enigmatic parts of the city's archaeology, and this excavation will allow us to understand much more about the lives of the people who lived in Lincoln more than 1,500 years ago.
"Through scientific analysis, archaeologists will be able to identify the sex, age and health of the individuals buried here, and this will give us new insights into the population of Roman Lincoln.
"The potential of this site was known from previous planning-related investigations, but the extent and preservation of these remains is remarkable, and constitutes one of the most significant finds in Lincoln of recent years."
Lindum Colonia
In the years following the Roman invasion of Britain in AD 43, a legionary fortress was built in the area
In about AD 90, the site became a "colonia" - a self-governing town for retired legionnaires
It developed into an important Roman city, with law courts, civic offices, bath houses and temples
Lincoln's 3rd Century Newport Arch is thought to be the oldest in the UK still used daily by traffic