Lincolnshire Police make 'unusual' drone appeal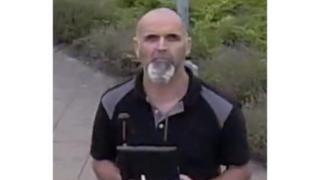 Police have taken the unusual step of releasing a photograph of a man who they believe may have flown a drone illegally.
The man was filmed operating a drone in Lincoln and may have been "engaged in unauthorised flying", police said.
Officers want to make sure he is aware of the rules, which include not operating a drone within 150m (492ft) of a congested area.
People found to be in breach of drone rules may be prosecuted.
Drones cannot go above 400ft (122m) in altitude or further than 500m horizontally.
"If you want to exceed that, you need to seek explicit permission from the Civil Aviation Authority (CAA)," a Lincolnshire Police spokeswoman said.
She added it was one of the first times the force had made an appeal of this nature.
---
The Dronecode
Make sure you can see your drone at all times and don't fly higher than 122m (400ft)
Drones must weigh less than 20kg (44lb)
Always keep your drone away from aircraft, helicopters, airports and airfields
Use your common sense and fly safely; you could be prosecuted if you don't
Drones fitted with cameras must not be flown:
Within 50m (164ft) metres of people, vehicles, buildings or structures
Over congested areas or large gatherings such as concerts and sports events
Source: Civil Aviation Authority
---
Michael Kheng, the owner of an aerial photography firm in Lincoln, said: "Drones are great fun but you can't just put them in the sky.
"You have rules and regulations you need to stick to, especially around Lincoln, as we have 100 sq miles of restricted airspace.
"It's restricted because we have the Red Arrows practising during the week and we have air ambulances going in and out at low altitude."
With Christmas approaching, police have also urged people to think about the rules for drones if considering buying one as a present.
"With these unmanned aerial vehicles (UAVs) ever growing in popularity, it is likely that many people will receive a drone as a festive gift.
"There is nothing to stop you buying a drone as long as it weighs less than 20kg and you are not using it for commercial reasons," a police spokesman said.
In September, a Nottinghamshire man was fined after admitting flying drones over professional football matches and London landmarks in the first case of its kind.