Lincoln's Christmas melted ice rink becomes giant puddle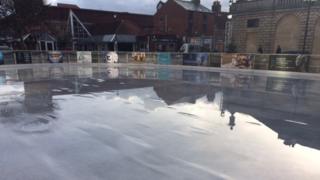 An outdoor Christmas ice rink has turned into a giant puddle because unseasonably mild weather has caused it to melt.
The attraction in Lincoln was forced to close as temperatures in the city reached highs of 14 C.
The chillers for the ice rink were put on full blast but it was not enough to re-freeze the water.
Rink manager Jonathan Davis said: "The current state is very watery, very wet, due to the mild weather."
He said he hoped to open the rink after 17:00 GMT, when temperatures drop.
But the weather is forecast to be mild again on Monday, reaching highs of 13 C in Lincoln.
"The chillers are all set to -12 which is the highest they will go and as you can see it's not able to keep up with the weather outside," said Mr Davis.
People with pre-booked tickets will be able to skate at another time.