Lincoln Baron statues blurred by Google to 'protect privacy'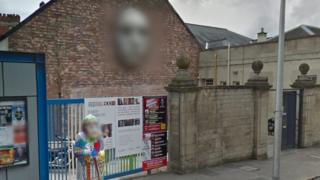 Statues that stood at locations in Lincoln as part of a Magna Carta trail have had their faces blurred by an online map site.
The 25 Lincoln Baron figures, designed by Lincolnshire artists, were on display between June and September.
They were captured by Google's street view technology which allows people to explore a location.
Google said it blurred faces to protect privacy but the "technology can work a little too well" at times.
Chris Kirkwood, chief executive of the Drillhall theatre, which also had a giant face on the side of its building blurred, said: "It's taking anonymity a little too far for me, but having said that I just think it's funny."
Google said: "We automatically blur faces and license plates that appear in Street View.
"Sometimes our technology can work a little too well, where you will see the faces of animals, statues or posters blurred too."
The company also recently blurred a number of stone statues including the giant Buddha in Ushiku, Japan.
The Lincoln Baron trail was part of the 800th anniversary celebrations marking the sealing of Magna Carta.
Each model, which were auctioned for charity, represented the barons who were present when King John signed the document at Runnymede in 1215.
About £167,000 was raised for national food bank charity, The Trussell Trust.