Dambuster airfield: Wildlife trust hopes to open to public next year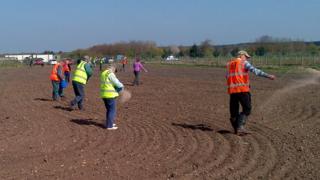 A wildlife trust working to transform a former RAF airbase in Lincolnshire into a nature reserve hopes to open it next year.
The Woodhall Spa site, once home to the 617 Dambuster Squadron, is owned by the Lincolnshire Wildlife Trust.
The airfield, closed 70 years ago and turned into a gravel quarry, has since been bought by the trust.
A trust spokesman said the mining firm which operated the quarry has removed all its heavy equipment from the site.
A section of the airbase, which the trust bought 10 years ago, has already been converted back to a grassland environment.
A trust spokesman said a combination of staff, volunteers and contractors were working on the restoring the site and fund-raising is under way to raise the money needed for the rest of the project.
These habitats support a range of wild plants and animals such as kestrels, yellowhammers and skylarks that are relatively scarce in Britain and Europe and "are of high conservation value", the trust said.
Birds and mammals found there include grey partridge, lapwing, turtle dove, cuckoo, song thrush, buzzard, barn owl, brown hare, water vole, otter, and bats.
Recently, volunteers spread poppy seeds on an area near the runway, but most of the current work has been done by large machinery.
The trust purchased the site after it was awarded a £450,000 grant from a biodiversity action fund as well as a £100,000 donation.
Parts of the former airfield can still be seen and will be preserved along with some wartime buildings.