Grandson murder accused Stewart Greene 'attacked mental health staff'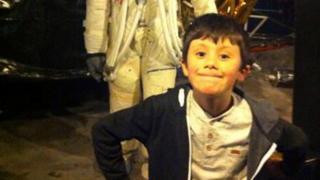 A man accused of murdering his nine-year-old grandson by drowning him in the bath, had previously attacked mental health staff, a court has heard.
Stewart Greene drowned his grandson Alex Robinson on 23 December, less than two weeks after he was released from a mental health unit in Lincoln.
Mr Greene's former wife told Lincoln Crown Court she had asked for him not to be released from the unit.
The 65-year-old has denied the murder charge.
Psychiatrist Jyothi Arayambath described, through tears, how Mr Greene attacked her in October 2014, at Maple Lodge rehabilitation centre near Boston.
He wanted to change his medication, but she told him she needed to see test results first.
'I'll kill you'
"He was saying 'You wouldn't listen to me, would you?' and 'I'll kill you'," said Dr Arayambath.
"I remember hearing his breath. One hand was on my throat.
"I passed out because my blood supply was blocked and fell back and hit my head. I was thinking I should stay still because if I move I could die."
Two mental health nurses from Peter Hodgkinson Centre in Lincoln told the court how they were also attacked.
Neil Marsh said he was alone with Mr Greene in a meeting room on 25 November when he became agitated and threw a punch towards his face.
Attack alarm
"The punch missed but his elbow struck the side of my head," said Mr Marsh.
Andrew Smith, the other mental health nurse, said he was preparing medication on 10 December when Mr Greene entered the clinic room and started shouting "I don't want to be discharged".
He said he tried to reassure Mr Greene, but he continued to shout, and also threw a medication trolley out of the way.
"I asked him to leave," said Mr Smith.
"He still came at me aggressively. I pushed my attack alarm.
"He raised his fists and I had to restrain him. Other members of staff came and we verbally talked him down."
Mr Greene was released from the unit the following day, 11 December, and went to live with his daughter at her home in Pennell Street, Lincoln.
Mr Greene's ex-wife, Andrea Greene, recalled asking a doctor not to release him.
"I didn't think he would do anything like this [kill his grandson] in a million years but I was afraid he would do something to get himself put back into the Peter Hodgkinson Centre," said Ms Greene.
She told the court her ex-husband had previously threatened a neighbour with a carving knife.
She recalled telling the doctor: "He's not capable of living on his own. He will do something stupid if you let him out."
The trial continues.