Warren Free murder trial: No blood or DNA on accused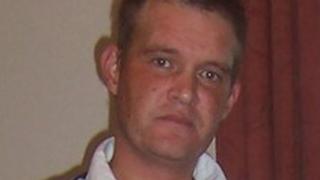 Lawyers defending six teenagers accused of murdering a man have said there was no scientific evidence linking any of them to the attack.
Warren Free, 42, of Coronation Close in Spalding, Lincolnshire, died in hospital after being found with head injuries at his home in August 2014.
Two 15-year-old boys, another boy aged 17, two 15-year-old girls and an 18-year-old man all deny murder.
The defence said none of the victim's blood or DNA was on their clothing.
'Lovely but naive'
Lincoln Crown Court previously heard Mr Free was punched and kicked before a girl struck him several times over the head with a metal pole.
The attack followed a confrontation over noise at a park near Mr Free's home.
A post-mortem examination found he had multiple cuts and bruises and had suffered a brain injury.
During the defence's summing up, lawyers reminded the jury that pathologists who examined Mr Free's body were unable to determine exactly how and when he sustained the fatal blow to his head.
They said it could have been caused by a punch or kick, or from falling to the ground and hitting his head.
The jury also heard a character statement from the father of one of the 15-year-olds, who was described as "charming, lovely but naive".
The judge is expected to begin summing up the evidence on Wednesday before the jury retires to consider its verdict.
The case continues.