Mid UK Recycling criticised over safety after shredder death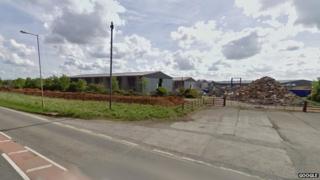 Safety measures at a recycling firm in Lincolnshire where a man was killed in an industrial shredder have been criticised.
Karlis Pavasars had to be identified by DNA from his toothbrush after he died at Mid UK Recycling in 2013.
Dr Dominic Swan, of the Health and Safety Executive, said the death was due to a lack of guarding around a conveyer leading to the shredder.
He also criticised staff supervision at the firm.
Father-of-two Mr Pavasars, of Peterborough, was working at the company in Barkston Heath, near Grantham, which shreds household waste into pellet-sized fuel for power stations.
Jurors at the inquest at Lincoln Cathedral Centre were told a boot was jammed in the conveyor belt and a hard hat was found on the floor.
Body fragments, found alongside parts of a hi-vis jacket inside the shredder, were matched with DNA from the 55-year-old's toothbrush.
Giving evidence, Dr Swan told the jury: "In my opinion the accident resulted from the lack of guarding around the conveyer belt."
"Other contributory factors were the lack of control and management of personnel in the shed, poor risk assessments, lack of procedures for undertaking maintenance, cleaning and clearing of blockages and lack of supervision of personnel," he said.
He added: "What actually happened to Mr Pavasars is unknown, but if the machinery had been guarded he would not have ended up in the shredder, or on the conveyer."
Chris Mountain, the managing director of Mid UK Recycling, was also called to give evidence.
The coroner Stuart Fisher reminded him that he was not obliged to answer questions that might incriminate himself.
He was asked what health and safety training was provided to workers at the time of the incident, and whether guards had been fitted to the equipment. He declined to answer.
The inquest was adjourned until Friday.